In Will Mobile 'Virtual Assistants' Propel the Future of Medicine?, the author portrays mHealth and virtual assistants as time savers for practitioners, but I take a different view and commented on his article, mentioning an important new documentary (see below).
He said …
With this evolution of mobility in mind, I've been thinking a lot about what a mobile "virtual assistant" could mean for clinicians. In today's health care setting, far too much clinician time is spent on administrative tasks that, while important, pales in comparison to the significance of their main job duty — ensuring the health and well-being of actual people. But what if we could help clinicians tackle administrative and other day-to-day duties by enlisting the power of a fleet of mobile virtual assistants that: help clinicians simplify interactions and address data-entry headaches with electronic health records (EHRs); provide real-time insight on the next patient, including vital signs and medications; or even prompt them for more information when the record does not contain the level of detail needed to ensure first-rate care?
(Jonathon Dryer is Director of Mobile Marketing for Nuance Communications).
I do love smartphones and tablets (especially the Apple iPhone & iPad). They're like having a powerful computer in your pocket and support all sorts of mHealth (mobile health) apps, but I have to admit they aren't for everyone.
As I read through the 13 articles about "Advancing the mHealth Ecosystem," I remembered today's conversation with a dear friend that expanded my perspective. She's about to give up her iPhone 4 and go back to using a flip-phone. Since I often promote Apple smartphones and tablets for seniors (she's not yet 60), and my wife talked her into the iPhone a year ago, this was a bit of a shock, so I had her explain.  Read the rest of this entry »
What is mHealth, and does the term stand for Mobile Health or Modern Health?
That's the subject of a an online discussion started by David Doherty, moderator of a LinkedIn group interested in using mobile technologies to improve health. He started the discussion to support my view that any definition of mHealth that only includes smartphones is both limiting and arrogant. This article supports that discussion by expanding the definition of mHealth and what's included.
Much of this article builds on an earlier article that I wrote in May 2012, where I addressed confusion among syllogisms, using the analogy that Lions & Tigers are both Animals, but not all Animals are Lions or Tigers. Likewise, there are some confusing overlaps among the terms mHealth, eHealth, Wireless Health, Telehealth, and  Modern Health. And the devices that serve these market segments overlap too, so I must discuss them collectively.
Living with Diabetes requires frequent monitoring of blood glucose (blood sugar), an essential measure of your health. The American Diabetes Association can help you better understand Diabetes, select from the latest tools, learn how to manage your blood glucose levels, and prevent serious complications. We provide a guide to help you select a blood glucose meter, many of which are available at local drug stores, but today's article is inspired by one that's not listed and you may not have seen yet.
iBGStar blood glucose monitor
By Mark Wilson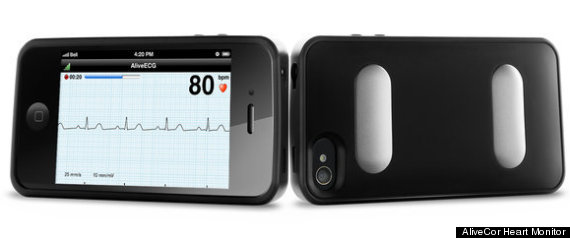 Health Care is hurting, and the world is changing.
More and more, Hospitals will fit in our Pockets. 
Most iPhone cases just protect your phone from drops. If you're getting fancy, it may have a fisheye camera lens or a screen-printed back. But what about diagnosing coronary heart disease, arrhythmia, or congenital heart defects? The AliveCor Heart Monitor is an FDA-approved iPhone case that can be held in your hands (or dramatically pressed against your chest) to produce an EKG/ECG–the infamous green blips pulsing patient-side in hospitals everywhere.
"We think that EKG screening can be as approachable as taking blood pressure," AliveCor President and CEO Judy Wade tells Co.Design. Read the rest of this entry »
By Brian Heaton (original article at govtech.com)
Opportunity is knocking for telehealth to become a common method of practicing medicine in the U.S.
One-on-one Web-based video chats and other electronic consultation between doctors and patients isn't new — it's been used throughout the U.S. in varying degrees for a few years now. But health-care reform, a ballooning  and aging population and a shortage of available family physicians may be a perfect storm that could blow the doors open for telehealth to go mainstream.
As states' health insurance exchanges — online marketplaces where citizens can compare and purchase insurance plans — begin to debut in advance of the 2014 deadline set forth by the Affordable Care Act (ACA), access to health-care providers should expand for many Americans. Obtaining insurance coverage soon may be easier, but the gap between the number of incoming patients and available primary care doctors is widening.
By Brendan Gramer, in Wired Magazine
When I learned that Apple would finally be enabling the iPhone's FaceTime app to work over mobile connections, I was ecstatic. As someone who is deaf, I could now use this one-touch, always-on video chat app to communicate with friends and family in my natural language: American Sign Language (ASL).
But then I found out that AT&T will block mobile FaceTime unless customers sign up for an expensive unlimited voice plan. I wasn't thrilled with the thought of having to pay this AT&T "deaf tax" just to use the mobile data I'm already paying for.
It's disappointing that AT&T is standing in the way of innovation that addresses the needs of its deaf and hard-of-hearing customers. Sometimes it takes a while (and some prodding) for technology and technology companies to catch up to and embrace accessibility. In this case the technology is there, but it's AT&T that's throwing up the barrier.
Wearable Technology Market to Exceed $6 Billion by 2016
Northampton, 08 August 2012 – Increasing demand for actionable, real-time data in a range of applications is driving strong demand for wearable technology. 14 million wearable devices were shipped in 2011; by 2016, wearable technology will represent a minimum revenue opportunity of $6 billion, according to World Market for Wearable Technology – A Quantitative Market Assessment – 2012, a new report from IMS Research. Read the rest of this entry »
Bluetooth is a global wireless standard that enables simple connectivity among mobile and medical devices. Version 4.0, with its low energy features for long battery life, is already transforming the healthcare industry, creating efficiencies, and promoting responsible personal health monitoring, as noted in my earlier article, Healthcare meets Bluetooth Low Energy. But the following press release highlights new market research that predicts a … Read the rest of this entry »