Tablets | Smartphones | iPad | Android
photo by: S. Patel, Univ. of Washington
SpiroSmart is a research app to let people test their lung function using only a smartphone.
App lets you monitor lung health using only a smartphone
By Hannah Hickey, University of Washington
9/12/2012 | People suffering from asthma or other chronic lung problems are typically only able to get a measure of their lung function at the doctor's office a few times a year by blowing into a specialized piece of equipment. More frequent testing at home could detect problems earlier, potentially avoiding emergency room visits and hospitalization.
A new tool from researchers at the University of Washington, UW Medicine and Seattle Children's hospital lets people monitor their lung function at home or on the go simply by blowing into their smartphones. A paper presented this month at the Association for Computing Machinery's International Conference on Ubiquitous Computing showed results that came within 5 percent of commercial devices, meaning it already meets the medical community's standards for accuracy.
"There's a big need in the pulmonary community to make testing cheaper and more convenient," said lead researcher Shwetak Patel, a UW assistant professor of computer science and engineering and of electrical engineering. "Other people have been working on attachments for the mobile phone that you can blow into. We said, 'Let's just try to figure out how to do it with the microphone that's already there.'"
Today's neck-snapping pace of innovation threatens to leave older members of society on the outside looking in through the twilight of their lives.
But what can we do?
That was the sentiment of Get old, tune out: Is technology leaving the elderly in the dust? I stumbled upon this article and had to comment, because I thought it missed an important point. The article was written from the perspective of a 30-year-old after assisting his 60-some-year-old father-in-law and gives you insight into how younger people view seniors.
"These older folks lack the base-line understanding that people of my age (early 30s) received," he said, and he was right. But it has less to do with basic understanding and more to do with how older people learn and adopt technology. Product designers, especially young ones, need to understand this lesson.
My response
All product designers should see www.mhealthtalk.com/2011/09/webcam-101/. It's a short video of a cute elderly couple trying to use their new PC and includes a link to a related article presenting the Apple iPad as a much simpler solution. Using any new technology can be daunting because of how seniors learn, and that contrasts with how young kids, or adults who grew up with tech, learn. Read the rest of this entry »
Living with Diabetes requires frequent monitoring of blood glucose (blood sugar), an essential measure of your health. The American Diabetes Association can help you better understand Diabetes, select from the latest tools, learn how to manage your blood glucose levels, and prevent serious complications. They provide guidance for selecting a blood glucose meter and list currently available models, many of which are available at local drug stores, but today's article is inspired by one that's not listed and you may not have seen yet.
iBGStar blood glucose monitor
Healthcare Reform to Boost Growth in Telehealth Market by 55 Percent in 2013
Austin, TX 19 Dec 2012 – From 2010 to 2011 usage of remote patient monitoring, or telehealth, increased by 22.2 percent as the number of patients enrolled worldwide reached 241,200. However, telehealth device revenues only grew by 5.0 percent from 2010 to 2011; and 18.0 percent from 2011 to 2012. InMedica, a division of IMS Research (now part of IHS Inc.) attributes slow revenue growth over the last year to poor economic conditions leading to restrictions in healthcare funding particularly in Europe, and ambiguity on the impact of healthcare reform and readmission penalties on telehealth in the U.S.
In the U.S., there remained considerable uncertainty on the future of the US healthcare market and the role of telehealth in this market throughout 2012. As the Center for Medicare and Medicaid Services (CMS) began penalizing U.S. hospitals for readmissions in October 2012, many healthcare providers remained unclear on the potential impacts on their institutions and are yet to implement a post-acute care plan.
As I prepare to go to Las Vegas in January, where I'll attend the Consumer Electronics Show and report on the latest health & fitness products, I've been thinking about what sort of products to expect, especially since technology is now being embedded in all sorts of devices, including some that make no sense. That brings me to today's article.
Rapid advancements in computer, networking and storage technology enable new features at lower cost each year, making older products seem obsolete more quickly than ever before, and one example of that is in household appliances like the refrigerator. But do you really need the latest features if what you have works just fine? Do you really need that $9,000 refrigerator with its built-in, color touch-screen and wireless Internet access? What does it do to justify that cost? And what lessons can be applied to health care? Read the rest of this entry »
By Mark Wilson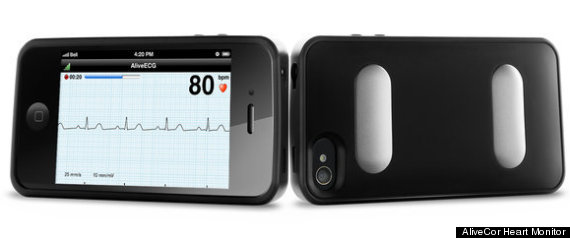 Health Care is hurting, and the world is changing.
More and more, Hospitals will fit in our Pockets. 
Most iPhone cases just protect your phone from drops. If you're getting fancy, it may have a fisheye camera lens or a screen-printed back. But what about diagnosing coronary heart disease, arrhythmia, or congenital heart defects? The AliveCor Heart Monitor is an FDA-approved iPhone case that can be held in your hands (or dramatically pressed against your chest) to produce an EKG/ECG–the infamous green blips pulsing patient-side in hospitals everywhere.
"We think that EKG screening can be as approachable as taking blood pressure," AliveCor President and CEO Judy Wade tells Co.Design. Read the rest of this entry »
By Brian Heaton (original article at govtech.com)
Opportunity is knocking for telehealth to become a common method of practicing medicine in the U.S.
One-on-one Web-based video chats and other electronic consultation between doctors and patients isn't new — it's been used throughout the U.S. in varying degrees for a few years now. But health-care reform, a ballooning  and aging population and a shortage of available family physicians may be a perfect storm that could blow the doors open for telehealth to go mainstream.
As states' health insurance exchanges — online marketplaces where citizens can compare and purchase insurance plans — begin to debut in advance of the 2014 deadline set forth by the Affordable Care Act (ACA), access to health-care providers should expand for many Americans. Obtaining insurance coverage soon may be easier, but the gap between the number of incoming patients and available primary care doctors is widening.
By Brendan Gramer, in Wired Magazine
When I learned that Apple would finally be enabling the iPhone's FaceTime app to work over mobile connections, I was ecstatic. As someone who is deaf, I could now use this one-touch, always-on video chat app to communicate with friends and family in my natural language: American Sign Language (ASL).
But then I found out that AT&T will block mobile FaceTime unless customers sign up for an expensive unlimited voice plan. I wasn't thrilled with the thought of having to pay this AT&T "deaf tax" just to use the mobile data I'm already paying for.
It's disappointing that AT&T is standing in the way of innovation that addresses the needs of its deaf and hard-of-hearing customers. Sometimes it takes a while (and some prodding) for technology and technology companies to catch up to and embrace accessibility. In this case the technology is there, but it's AT&T that's throwing up the barrier.
Wearable Technology Market to Exceed $6 Billion by 2016
Northampton, 08 August 2012 – Increasing demand for actionable, real-time data in a range of applications is driving strong demand for wearable technology. 14 million wearable devices were shipped in 2011; by 2016, wearable technology will represent a minimum revenue opportunity of $6 billion, according to World Market for Wearable Technology – A Quantitative Market Assessment – 2012, a new report from IMS Research. Read the rest of this entry »
Bluetooth is a global wireless standard that enables simple connectivity among mobile and medical devices. Version 4.0, with its low energy features for long battery life, is already transforming the healthcare industry, creating efficiencies, and promoting responsible personal health monitoring, as noted in my earlier article, Healthcare meets Bluetooth Low Energy. But the following press release highlights new market research that predicts a … Read the rest of this entry »