Today's short post features my response to a Forbes article by Dr. Robert Pearl, Offshoring American Health Care: Higher Quality At Lower Costs?, about the Cayman Islands, which are known for inviting coral-sand beaches, laid-back island culture and tax-free status.
Medical Tourism is a growing trend
This trend is not just in the Cayman Islands. Over 8 million people worldwide, and 1.3 million Americans, cross international borders for better and cheaper care. That trend will increase as insurers offer low-cost policies with high deductibles that encourage consumers to seek the best value in health care and lifestyle decisions. Read the rest of this entry »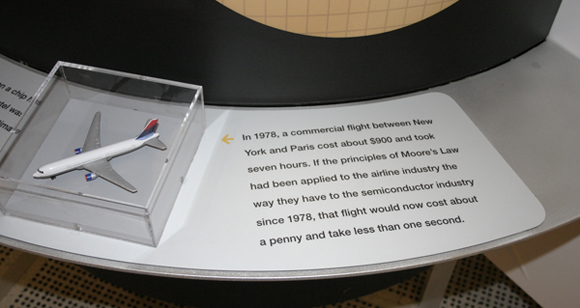 The video below makes fun of the health care industry with a satirical look at what the airline industry would be like if it worked the same way.
Neither industry, however, has shown the same innovation & improvement as the computer industry, which I come from as a retired IBM technologist. To put that statement into perspective, here are some observations.
Moore's Law and Air Travel
What is Mobile Health?  That's the subject of a Linkedin discussion started by Wendy Thomas, founder of the Mobile Health Association in Austin, TX.
Her purpose was to clear up confusion between syllogisms, and the analogy she used was that Lions are all Animals, but not all Animals are Lions. The same goes with the health terms such as digital health, ehealth (electronic healthcare), mhealth (mobile healthcare), and telemedicine, so she argued that…
Mobile Health IS Wireless Health AND Mobile Health IS Telemedicine, but Wireless Health AND Telemedicine are not necessarily MOBILE HEALTH.
While I agree with the premise of Wendy's argument, people often associate Mobile Health with the ambulance that shows up to provide care and transportation, rather than the use of mobile devices and wireless networks. That's why I drew the diagram with Mobile Health not entirely within Wireless Health or within Telemedicine. Confusion still persists, and I'm adding to it with yet another term – Modern Health. Read the rest of this entry »
Guest article by Marlo Sollitto, AgingCare.com
Recent reports allege that security officials at a Florida airport forced a 95-year-old woman with cancer to remove her adult diaper as part of a security pat-down.
While this is an extreme example, some medical equipment and assistive devices– such as pacemakers, wheelchairs and oxygen tanks – can hinder airport security screening procedures.
In response to the incident involving the adult diaper, Transportation Security Administration (TSA) officials released this statement: "While every person and item must be screened before entering the secure boarding area, the TSA works with passengers to resolve security alarms in a respectful and sensitive manner."
How can caregivers ensure their elderly relatives are treated with dignity, yet expedite the process of getting an elderly loved one through airport security safely? AgingCare.com asked Sarah Horowitz, spokesperson for the TSA's Office of Public Affairs, to weigh in on how certain assistive devices may affect airport security:
To help you make travel plans during the holiday season I'd like to highlight a reference with all sorts of travel and tourism tips for people with disabilities.
Opening Doors for People with Disabilities in Travel & Tourism
Open Doors Organization is a 501(c)(3) non-profit organization that envisions a society in which all persons with disabilities have the same consumer opportunities as everyone else.  They help empower the disability community and teach businesses how to become more accessible. Here are some of their useful tips for planning accessible travel of all types, from outdoor adventure to cruises. Read the rest of this entry »
Urban and suburban patients have advantages not generally available to those living in rural settings, including easy access to more healthcare professionals, specialists and well-equipped medical facilities, better roads and taxi service, public transportation systems, and broadband Internet. The challenges of providing rural health care present opportunities for innovative organizations willing to take them on, because doing so helps improve the nation's health care system overall.
It's kind of like when President Kennedy visited Houston's Rice University in 1962 and said, "We choose to go to the moon. We choose to go to the moon in this decade and do the other things, not because they are easy, but because they are hard, because that goal will serve to organize and measure the best of our energies and skills, because that challenge is one that we are willing to accept, one we are unwilling to postpone, and one which we intend to win, and the others, too."
And it's why we support Intel's Eric Dishman and his call for a "Going to the Moon" type of effort to reduce health care costs with technology solutions – solutions that enable home health care and aging in place. As a nation, we must address the rising costs by creating personal, networked, home-based care options and move at least 50% of care from hospitals, nursing homes, and assisted care facilities to homes.
Guest article by Jessica Wapner (www.jessicawapner.com, @jessicawapner), from WorkInProgress blog.
Jessica gained a new perspective of our healthcare system when a relative needed emergency surgery in a small village in Cyprus to remove gall stones and her gall bladder. Her story is included because it relates to Health Concerns for Oversees Travel. If you'd rather not see this type of story, reply below.
Over the course of the decade-plus that I've been writing and editing material on healthcare (cancer research and treatment, in particular), people have asked from time to time whether my interest is driven by some personal stake in the matter. Read the rest of this entry »
This is vacation season, so last week I published Flying with Medical Devices and Supplies. It was a guest article by Marlo Sollitto about how to get through TSA screening, but it just covered domestic travel.
If you're going overseas, there are many other things to know, as my wife reminds me often. She's a registered nurse and travel specialist at ADC Travel Clinic. It's a fun job since she provides pre-travel advice and vaccinations for international travel and talks to people going on fun trips for business or pleasure. Her advice varies considerably by region, which is why it's important to see someone like her before leaving.
An ABC News special report last week caught my attention since it covered health concerns for foreign travel. The video is embedded below, but here are some highlights: