Why do we need a smart fork, you may ask? Well, here's the hype…
Studies show that people who eat slower eat 11% fewer calories and digest food better, so HAPILABS introduced 2 devices at CES: HAPIfork and HAPItrack. The dishwasher safe HAPIfork got immense press coverage, including articles in Consumer Reports and Bon Appetit, as well as placement on the Stephen Colbert Show (see video below).
This latest electronic gadget functions like a friendly shock collar by paying attention to when you eat, how many bites you take, and the intervals between each bite, vibrating to tell you when you're eating too fast or too much. The goal is to encourage you to slow down, chew your food, improve your digestion, transform the way you eat, and… enjoy life more. HAPIfork then communicates with your smartphone so you can track your eating habits or share them with friends online. Read the rest of this entry »
Accessible introduction transcript…
Every day technology makes new things possible, and some predict that it's just a matter of time until technology completely revolutionizes healthcare.
Some believe that medical diagnosis, general patient care, and medical practices are more expensive and inferior than they need to be.
The problem with health care is that it's often the practice of medicine, rather than the science of medicine, as most medical decisions are simply based on tradition, a doctor's limited medical knowledge, and the patient's known symptoms and medical history.
The result? Three doctors could diagnose a problem three different ways. This can be a serious issue.
Over 40,000 patients die in the ICU in the U.S. each year due to misdiagnosis.
The solution? Big Data. Some believe medicine can become more of a science, rather than practice, by relying on technology.
INFOGRAPHIC follows…  Read the rest of this entry »
On the first day of CES I attended a Digital Health Summit panel discussion hosted by Arianna Huffington of The Huffington Post. To introduce the discussion, she described Americans' increase in antidepressants, sleep medications, and stress, and how 75% of healthcare spending is spent on preventable diseases, and 80% of medications are for pain. All of these conditions are preventable through other means, she said.
The panel discussed a perfect storm of multiple trends: (1) stress (and I'd add sleep deprivation) is a killer, (2) our broken & expensive sick care system, and (3) technology & wearable devices that can help us focus on health & wellness. Market researchers note that 30 million wearable devices shipped in 2012, going to 60 million in the next year. In addition, 44 million health apps will be downloaded to smartphones and tablets this year.
I attended CES in person this year instead of monitoring the show from the comfort of my home office and writing my traditional report, CES in Pajamas. On the first day I attended "The Digital Health Revolution: Body, Mind and Soul," a  panel discussion hosted by Arianna Huffington and am thrilled that Huffington Post is so prominently promoting conversation and innovation supporting better health & wellness. Its GPS for the Soul smartphone app, for example, complements lifestyle articles around the theme "Less Stress, More Living." Here's an article that Arianna published on the first day.
CES 2013, GPS for the Soul and the Digital Health Revolution
By Arianna Huffington, 1/07/2013
Greetings from Las Vegas, where I've landed in the midst of a perfect storm. I'm not talking about the weather — it's a crisp, beautiful day here. No, I'm talking about one of those moments in which several trends converge to create something larger, a moment we will look back on as the time everything changed. Read the rest of this entry »
Living with Diabetes requires frequent monitoring of blood glucose (blood sugar), an essential measure of your health. The American Diabetes Association can help you better understand Diabetes, select from the latest tools, learn how to manage your blood glucose levels, and prevent serious complications. We provide a guide to help you select a blood glucose meter, many of which are available at local drug stores, but today's article is inspired by one that's not listed and you may not have seen yet.
iBGStar blood glucose monitor
As I prepare to go to Las Vegas in January, where I'll attend the Consumer Electronics Show and report on the latest health & fitness products, I've been thinking about what sort of products to expect, especially since technology is now being embedded in all sorts of devices, including some that make no sense. That brings me to today's article.
Rapid advancements in computer, networking and storage technology enable new features at lower cost each year, making older products seem obsolete more quickly than ever before, and one example of that is in household appliances like the refrigerator. But do you really need the latest features if what you have works just fine? Do you really need that $9,000 refrigerator with its built-in, color touch-screen and wireless Internet access? What does it do to justify that cost? And what lessons can be applied to health care? Read the rest of this entry »
By Mark Wilson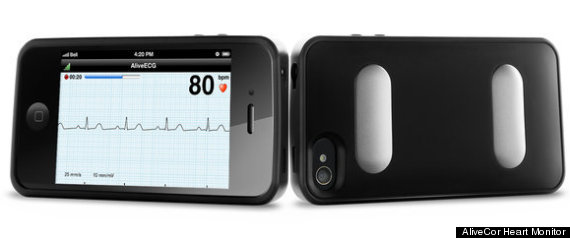 Health Care is hurting, and the world is changing.
More and more, Hospitals will fit in our Pockets. 
Most iPhone cases just protect your phone from drops. If you're getting fancy, it may have a fisheye camera lens or a screen-printed back. But what about diagnosing coronary heart disease, arrhythmia, or congenital heart defects? The AliveCor Heart Monitor is an FDA-approved iPhone case that can be held in your hands (or dramatically pressed against your chest) to produce an EKG/ECG–the infamous green blips pulsing patient-side in hospitals everywhere.
"We think that EKG screening can be as approachable as taking blood pressure," AliveCor President and CEO Judy Wade tells Co.Design. Read the rest of this entry »
Scanadu Unveils Family of New Tools to Revolutionize Consumer Healthcare
NASA-Based Company Puts a Doctor in Your Pocket
NASA Ames Research Center, Moffett Field, CA – November 29, 2012
Scanadu, a new personalized health electronics company, today unveiled the first three products in its family of consumer health tools: Scanadu SCOUT, Project ScanaFlu and Project ScanaFlo. Based at NASA-Ames Research Center, Scanadu is using mobile, sensor and social technology to ensure this is the last generation to know so little about our health. The newly introduced home diagnostic tools are set to be the biggest innovation in home medicine since the invention of the thermometer.
Founded in 2010 by Walter de Brouwer after a family medical emergency, Scanadu is using imaging and sound analysis, molecular diagnostics, data analytics and a suite of algorithms to create devices that offer a comprehensive, real-time picture of your health data. The company is also participating in the Qualcomm Tricorder X Prize, which looks to bring healthcare to the palm of your hand, as well as the Nokia Sensing X Challenge, which seeks to revolutionize digital healthcare. Read the rest of this entry »
Editor's note: Last night I participated in "I am Robot. Hear me roar," an online discussion hosted by HuffPost Live and using Google+ Hangouts to support several people connected via webcam. The discussion questioned how automation can make human workers obsolete. Will robots make your own job as a caretaker obsolete? I was asked to participate because of my interest in tech futures that include Healthcare Robots. Jamais Cascio also participated and offered some quite interesting insights. He shared the following article with the audience and gave me permission to republish it here.
Different perspectives: Following the article are two videos.
First is a PBS report that looks at robots and automation as replacing human workers. It's what many Democrats worry about, and many unemployed workers complain about.
Second is a heart-warming movie trailer from Robot and Frank, which opens in theaters this month and gives a rosier view of technology that's more like a friendly assistant than a job killer. This optimistic view is similar to the picture Republicans paint, but with no worry about those left behind and unemployed.
So which is it? Just as futurists consider different scenarios and what may lead to their preferred version of the future, you too can decide which version you like and either help make it happen for yourself, or prevent it from happening to others. As you think about this, realize that technology won't slow down, but its impact on society can be controlled with smart policy decisions. Add your own perspectives below.
The Pink Collar Future
By Jamais Cascio, futurist, writer, speaker and founder of Open The Future
The claim that robots are taking our jobs has become so commonplace of late that it's a bit of a cliché. Nonetheless, it has a strong element of truth to it. Not only are machines taking "blue collar" factory jobs — a process that's been underway for years, and no longer much of a surprise except when a company like Foxconn announces it's going to bring in a million robots (which are less likely to commit suicide, apparently) — but now mechanized/digital systems are quickly working their way up the employment value chain. "Grey collar" service workers have been under pressure for awhile, especially those jobs (like travel agent) that involve pattern-matching; now jobs involving the composition of structured reports (such as basic journalism) have digital competition, and Google's self-driving car portends a future of driverless taxicabs. But even "white collar" jobs, managerial and supervisory in particular, are being threatened — in part due to replacement, and in part due to declining necessity. After all, if the line workers have been replaced by machines, there's little need for direct human oversight of the kind required by human workers, no? Stories of digital lawyers and surgeons simply accelerate the perception that robots really are taking over the workplace, and online education systems like the Khan Academy demonstrate how readily university-level learning can be conducted without direct human contact.
Home Monitoring for Seniors Will Drive 36 Million Wearable Wireless Device Market
FOR IMMEDIATE RELEASE - LONDON – July 13, 2012
​A combination of factors including the growing senior demographic combined with economic, social, and technological developments are driving investment and demand for home monitoring devices that can extend and improve in-home care.
As the market transitions from safety focused offerings toward health monitoring and extending and enhancing the comfort, safety, and well-being for seniors living in their own homes and care homes, monitoring devices will grow to more than 36 million units in 2017, up from under 3 million units in 2011, at a CAGR of 55.9%.
Over the same time, home monitoring will almost double its share of the wearable wireless device health market to 22% from 12%.
"Healthcare providers and caregivers alike are looking for devices to improve the monitoring of seniors in their own homes as economics and demographics increasingly drive that demand" says Jonathan Collins, principal analyst at ABI Research and author of a new report examining the wearable wireless device healthcare market. Read the rest of this entry »