As I prepare to go to Las Vegas in January, where I'll attend the Consumer Electronics Show and report on the latest health & fitness products, I've been thinking about what sort of products to expect, especially since technology is now being embedded in all sorts of devices, including some that make no sense. That brings me to today's article.
Rapid advancements in computer, networking and storage technology enable new features at lower cost each year, making older products seem obsolete more quickly than ever before, and one example of that is in household appliances like the refrigerator. But do you really need the latest features if what you have works just fine? Do you really need that $9,000 refrigerator with its built-in, color touch-screen and wireless Internet access? What does it do to justify that cost? And what lessons can be applied to health care? Read the rest of this entry »
By Mark Wilson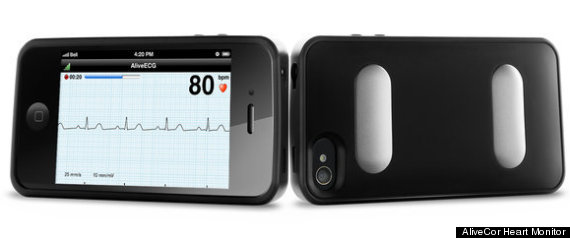 Health Care is hurting, and the world is changing.
More and more, Hospitals will fit in our Pockets. 
Most iPhone cases just protect your phone from drops. If you're getting fancy, it may have a fisheye camera lens or a screen-printed back. But what about diagnosing coronary heart disease, arrhythmia, or congenital heart defects? The AliveCor Heart Monitor is an FDA-approved iPhone case that can be held in your hands (or dramatically pressed against your chest) to produce an EKG/ECG–the infamous green blips pulsing patient-side in hospitals everywhere.
"We think that EKG screening can be as approachable as taking blood pressure," AliveCor President and CEO Judy Wade tells Co.Design. Read the rest of this entry »
Scanadu Unveils Family of New Tools to Revolutionize Consumer Healthcare
NASA-Based Company Puts a Doctor in Your Pocket
NASA Ames Research Center, Moffett Field, CA – November 29, 2012
Scanadu, a new personalized health electronics company, today unveiled the first three products in its family of consumer health tools: Scanadu SCOUT, Project ScanaFlu and Project ScanaFlo. Based at NASA-Ames Research Center, Scanadu is using mobile, sensor and social technology to ensure this is the last generation to know so little about our health. The newly introduced home diagnostic tools are set to be the biggest innovation in home medicine since the invention of the thermometer.
Founded in 2010 by Walter de Brouwer after a family medical emergency, Scanadu is using imaging and sound analysis, molecular diagnostics, data analytics and a suite of algorithms to create devices that offer a comprehensive, real-time picture of your health data. The company is also participating in the Qualcomm Tricorder X Prize, which looks to bring healthcare to the palm of your hand, as well as the Nokia Sensing X Challenge, which seeks to revolutionize digital healthcare. Read the rest of this entry »
Editor's note: Last night I participated in "I am Robot. Hear me roar," an online discussion hosted by HuffPost Live and using Google+ Hangouts to support several people connected via webcam. The discussion questioned how automation can make human workers obsolete. Will robots make your own job as a caretaker obsolete? I was asked to participate because of my interest in tech futures that include Healthcare Robots. Jamais Cascio also participated and offered some quite interesting insights. He shared the following article with the audience and gave me permission to republish it here.
Different perspectives: Following the article are two videos.
First is a PBS report that looks at robots and automation as replacing human workers. It's what many Democrats worry about, and many unemployed workers complain about.
Second is a heart-warming movie trailer from Robot and Frank, which opens in theaters this month and gives a rosier view of technology that's more like a friendly assistant than a job killer. This optimistic view is similar to the picture Republicans paint, but with no worry about those left behind and unemployed.
So which is it? Just as futurists consider different scenarios and what may lead to their preferred version of the future, you too can decide which version you like and either help make it happen for yourself, or prevent it from happening to others. As you think about this, realize that technology won't slow down, but its impact on society can be controlled with smart policy decisions. Add your own perspectives below.
The Pink Collar Future
By Jamais Cascio, futurist, writer, speaker and founder of Open The Future
The claim that robots are taking our jobs has become so commonplace of late that it's a bit of a cliché. Nonetheless, it has a strong element of truth to it. Not only are machines taking "blue collar" factory jobs — a process that's been underway for years, and no longer much of a surprise except when a company like Foxconn announces it's going to bring in a million robots (which are less likely to commit suicide, apparently) — but now mechanized/digital systems are quickly working their way up the employment value chain. "Grey collar" service workers have been under pressure for awhile, especially those jobs (like travel agent) that involve pattern-matching; now jobs involving the composition of structured reports (such as basic journalism) have digital competition, and Google's self-driving car portends a future of driverless taxicabs. But even "white collar" jobs, managerial and supervisory in particular, are being threatened — in part due to replacement, and in part due to declining necessity. After all, if the line workers have been replaced by machines, there's little need for direct human oversight of the kind required by human workers, no? Stories of digital lawyers and surgeons simply accelerate the perception that robots really are taking over the workplace, and online education systems like the Khan Academy demonstrate how readily university-level learning can be conducted without direct human contact.
Home Monitoring for Seniors Will Drive 36 Million Wearable Wireless Device Market
FOR IMMEDIATE RELEASE - LONDON – July 13, 2012
​A combination of factors including the growing senior demographic combined with economic, social, and technological developments are driving investment and demand for home monitoring devices that can extend and improve in-home care.
As the market transitions from safety focused offerings toward health monitoring and extending and enhancing the comfort, safety, and well-being for seniors living in their own homes and care homes, monitoring devices will grow to more than 36 million units in 2017, up from under 3 million units in 2011, at a CAGR of 55.9%.
Over the same time, home monitoring will almost double its share of the wearable wireless device health market to 22% from 12%.
"Healthcare providers and caregivers alike are looking for devices to improve the monitoring of seniors in their own homes as economics and demographics increasingly drive that demand" says Jonathan Collins, principal analyst at ABI Research and author of a new report examining the wearable wireless device healthcare market. Read the rest of this entry »
As a technologist, futurist, mHealth advocate, and past Home Systems consultant, I'm a fan of embedded technologies that make products smarter and easier to use, especially those that improve healthcare, but I side with "Smart Home" skeptics and add my own comments after this press release. – Wayne Caswell, mHealthTalk editor
The Future of Smart Systems
By 2020, experts think tech-enhanced homes, appliances, and utilities will spread, but many of the analysts believe we still won't likely be living in the long-envisioned 'Homes of the Future'
June 29, 2012 — Hundreds of tech analysts foresee a future with "smart" devices and environments that make people's lives more efficient.
But they also note that current evidence about the uptake of smart systems is that the costs and necessary infrastructure changes to make it all work are daunting. And they add that people find comfort in the familiar, simple, "dumb" systems to which they are accustomed.
Some 1,021 Internet experts, researchers, observers, and critics were asked about the "home of the future" in an online, opt-in survey. The result was a fairly even split between those who agreed that energy- and money-saving "smart systems" will be significantly closer to reality in people's homes by 2020 and those who said such homes will still remain a marketing mirage. Read the rest of this entry »
NEHI Identifies 11 Emerging Chronic Disease Technologies To Watch
Cites Potential to Improve Care, Lower Costs for At-Risk Populations
CAMBRIDGE, Mass. (June 13, 2012) – NEHI, a national health policy institute dedicated to finding innovative solutions to health care problems, today identified eleven emerging technologies that have the potential to improve care and lower costs for chronic disease patients, especially those in at-risk populations.
The "technologies to watch" target a range of chronic illnesses, including diabetes, asthma, stroke and heart disease, and reflect the growing emphasis on empowering patients to monitor their own care through the use of mobile platforms, social networking and home-based telehealth technologies. The technologies include web-based platforms that enable patients to connect virtually to their physician through their smartphone or personal computer, cell phone apps for medication reminders and asthma control, and in-car wireless systems that monitor patients' health while they are driving. According to NEHI's selection criteria, the technologies are under-used but have high future potential and align to the safety net population with low cost and easy access. Read the rest of this entry »
ALS Patient Tony "TEMPT ONE" Quan and the EyeWriter Device is an article I found at PatientsLikeMe.com, and I found it inspiring enough to share. Below is an excerpt and three  good videos.
For quadriplegics like Steven Hawking, "an eye gaze system – a type of augmentative speech device that translates eye movements into words – can make it possible to communicate with loved ones when speech is impaired or lost.  The problem?  They're big and expensive, and in many cases, US health insurers won't cover them."
. . .
Animation studio owner Mick Ebeling heard about Tony's case, "founded the Not Impossible Foundation and enlisted the help of programmers and open source activists in creating a low-cost, open-access writing and drawing device for paralyzed patients.  Despite having no background in ocular recognition, they pulled it off. Named one of the top 50 inventions of 2010 by Time, the brilliantly simple EyeWriter device can be made for less than $50." Read the rest of this entry »