By Mark Wilson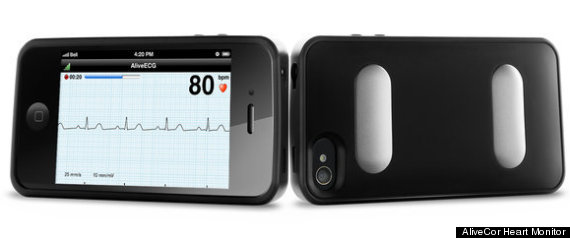 Health Care is hurting, and the world is changing.
More and more, Hospitals will fit in our Pockets. 
Most iPhone cases just protect your phone from drops. If you're getting fancy, it may have a fisheye camera lens or a screen-printed back. But what about diagnosing coronary heart disease, arrhythmia, or congenital heart defects? The AliveCor Heart Monitor is an FDA-approved iPhone case that can be held in your hands (or dramatically pressed against your chest) to produce an EKG/ECG–the infamous green blips pulsing patient-side in hospitals everywhere.
"We think that EKG screening can be as approachable as taking blood pressure," AliveCor President and CEO Judy Wade tells Co.Design. Read the rest of this entry »
Bluetooth is a global wireless standard that enables simple connectivity among mobile and medical devices. Version 4.0, with its low energy features for long battery life, is already transforming the healthcare industry, creating efficiencies, and promoting responsible personal health monitoring, as noted in my earlier article, Healthcare meets Bluetooth Low Energy. But the following press release highlights new market research that predicts a … Read the rest of this entry »
Craig Monsen and David Do are fourth-year medical students at Johns Hopkins School of Medicine students. According to this article, they recently created a smartphone compatible website that uses big data, analytics, and artificial intelligence to analyze your symptoms and help determine the cause.
Using Symcat (symptoms-based, computer-assisted triage), you enter various ailments (fever, rash, cough, swelling etc.) and receive a diagnosis, prioritizing potential causes by likelihood and color-coding them by urgency. As you'll see in the video demo below, entering and refining the symptoms and medical history is an iterative process, and the results are quite impressive. At some point, if you decide to see a doctor, the system also recommends local practitioners based on their specific specialty and experience.
By Barbara Ficarra, RN, BSN, MPA
[Original post, "Too Much Hype in the Mobile Health App World?" published on The Huffington Post on 7/23/12 in the Healthy Living/Health News Section.]
The Wild West of mobile health (mHealth) is taking the health care industry by storm, but "there are no rules to the game," said Joseph C. Kvedar, M.D., founder and director at the Center for Connected Health in a recent interview. Mobile health is a "game changer," he added, but there is a lot of hype because there are a lot of people developing health apps just to "get rich quick."
Home Monitoring for Seniors Will Drive 36 Million Wearable Wireless Device Market
FOR IMMEDIATE RELEASE - LONDON – July 13, 2012
​A combination of factors including the growing senior demographic combined with economic, social, and technological developments are driving investment and demand for home monitoring devices that can extend and improve in-home care.
As the market transitions from safety focused offerings toward health monitoring and extending and enhancing the comfort, safety, and well-being for seniors living in their own homes and care homes, monitoring devices will grow to more than 36 million units in 2017, up from under 3 million units in 2011, at a CAGR of 55.9%.
Over the same time, home monitoring will almost double its share of the wearable wireless device health market to 22% from 12%.
"Healthcare providers and caregivers alike are looking for devices to improve the monitoring of seniors in their own homes as economics and demographics increasingly drive that demand" says Jonathan Collins, principal analyst at ABI Research and author of a new report examining the wearable wireless device healthcare market. Read the rest of this entry »
In this 44-page market research report from PwC (formerly Pricewaterhouse Cooper), patients, doctors and payers share their sometimes-conflicting views on mHealth. We provide highlights below.
We live in a world that's connected wirelessly with almost as many cellular phone subscriptions as there are people on the planet. According to the International Telecommunications Union, there were almost 6 billion mobile phones in use worldwide in late 2011. The ubiquity of mobile technology offers tremendous opportunities for the healthcare industry to address one of the most pressing global challenges: making healthcare more accessible, faster, better and cheaper.
Several factors effect how mHealth care will be provided, including:
The ubiquity and personal nature of mobile devices;
The very nature of always-in-touch mobility; and
Competition that will increase functionality and drive lower prices. Read the rest of this entry »
NEHI Identifies 11 Emerging Chronic Disease Technologies To Watch
Cites Potential to Improve Care, Lower Costs for At-Risk Populations
CAMBRIDGE, Mass. (June 13, 2012) – NEHI, a national health policy institute dedicated to finding innovative solutions to health care problems, today identified eleven emerging technologies that have the potential to improve care and lower costs for chronic disease patients, especially those in at-risk populations.
The "technologies to watch" target a range of chronic illnesses, including diabetes, asthma, stroke and heart disease, and reflect the growing emphasis on empowering patients to monitor their own care through the use of mobile platforms, social networking and home-based telehealth technologies. The technologies include web-based platforms that enable patients to connect virtually to their physician through their smartphone or personal computer, cell phone apps for medication reminders and asthma control, and in-car wireless systems that monitor patients' health while they are driving. According to NEHI's selection criteria, the technologies are under-used but have high future potential and align to the safety net population with low cost and easy access. Read the rest of this entry »