Posts Tagged 'public policy'
Modern Health Talk is sensitive to the very personal issues of families facing terminal illness and found the following video both inspiring and touching.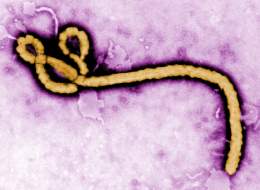 EDITORIAL: Who are we to believe? The news media that profits from sensationalism? Or federal and public health officials who are desperate to avoid panic? What is the truth about the Ebola virus? Right now it's not clear who to believe, and we continue to wonder, "What is the Truth about Ebola." Here are some of my thoughts and related articles, but I invite you to respond.
With the number of Ebola cases doubling, doubling and doubling every week or two, or three; how long might it take to reach millions, or billions? Not only is the number of cases grossly under-reported, but health officials and governments are grossly downplaying the risk and misleading the people. It seems like they're lying, and that doesn't help, because it erodes public trust and contributes to growing fears.
HOLES IN THE SAFETY NET(s)

Even with multiple safeguards, rapid spread of horrific disease (like terrible traffic accidents) can occur. This is the thought behind the "Swiss cheese" model of risk, developed by British scientist James Reason, and described by Vamsi Aribindi, a medical student who wrote Ebola in Texas: A fascinating story of system errors (referenced article below).
 Make Sure You're in the Safest Possible Operating Room
The Hazards of Hospitals
We all think of the hospital as a place we go to get better, but hospitals in the United States are making people sicker at alarming rates. Between overtired interns, germ-covered doctors,  haphazard record keeping, and equipment failures, you might find yourself in more trouble than you were when you checked in. Here are some alarming statistics, followed by some patient recommendations.
1.7 million infections are contracted in hospitals each year.
1 in 5 patients suffer harm from medical errors, and 99,000 die from them.
You're 30,000 times more likely to die from a hospital visit than a plane crash.
And more die from infections each year than from car accidents, breast cancer or aids.
High Anxiety
The simple mention of having a medical procedure brings out anxiety in most people. It's human nature to become fearful when preparing to undergo a surgical procedure that requires in-patient treatment, sedation and operating rooms, as it is associated with pain and mortality. Read the rest of this entry »
U.S. Unprepared to Meet the Housing Needs
of Its Aging Population
Harvard Joint Center for Housing Studies & AARP Foundation Release New Report
Washington, D.C. & Cambridge, MA (9/2/2014) – America's older population is in the midst of unprecedented growth, but the country is not prepared to meet the housing needs of this aging group, concludes a new report released today by the Harvard Joint Center for Housing Studies and AARP Foundation. According to Housing America's Older Adults—Meeting the Needs of An Aging Population, the number of adults in the U.S. aged 50 and over is expected to grow to 133 million by 2030, an increase of more than 70 percent since 2000 (see interactive map). But housing that is affordable, physically accessible, well-located, and coordinated with supports and services is in too short supply.
As implied in "An Apple a Day…" the fruit and the smartphone can both keep doctors away, and that has many of them terrified for good reason.
Those at the top of the healthcare mountain especially fear the Healthcare MiniTrends, because they know 429 of the original Fortune 500 companies (1955) are no longer in business today. And they're looking down at a new class of hungry competitors who are already exploiting these minitrends.
Let's look at just two of the trends: (1) the new focus on wellness, and (2) new smartphone uses. Read the rest of this entry »
Doctors are just as frustrated with our fee-for-service "sick care" system as patients are. Following on the heels of a related article from a few days ago by Dr. Stephen Schimpff, today's post introduces an NPR article featuring an in-depth interview with cardiologist Sandeep Jauhar, MD, who wrote the book, Doctored: The Disillusionment of an American Physician. It begins…
"As a young doctor working at a teaching hospital, Sandeep Jauhar was having trouble making ends meet. So, like other academic physicians, he took a job moonlighting at a private practice, the offices of a cardiologist. He noticed that the offices were quick to order expensive tests for their patients — even when they seemed unnecessary. It was 'made very clear from the beginning' that seeing patients alone was not financially rewarding for the business."
Read the rest at NPR, listen to the full interview below,
or watch the Wall Street Journal interview below that. Read the rest of this entry »
"What the Hell is happening to health care?"
"And is it an Opportunity or a Threat?"
Insights by Wayne Caswell, Founder of Modern Health Talk.
An awful lot has changed in just the last few years and even more will change in the near future, with the aim of reducing (or at least containing) our health care costs. What's behind these MiniTrends, and what is their implication for providers, payers and consumers? That's the $1.5 trillion question. Here I talk about many, many MiniTrends–surely you can find 101 of them if you look! 
"It is not the strongest or the most intelligent who will survive but those who can best manage change." – Charles Darwin
That quote is important, because 429 of the original Fortune 500 companies [1955] are no longer in business today. That's a scary thought for those sitting at the top of the healthcare mountain, because they know they must adapt to the megatrend of health reform and Obamacare (the Patient Protection and Affordable Care Act) or die. And they are looking down with fear at the hungry competitors who are already exploiting the many related minitrends, because for them these are times of great opportunity.
By Karen R. Thomas, President of Advanced TeleHealth Solutions (original article here)
As incredibly innovative and efficient as telehealth is at providing greater access to care for consumers, lowering healthcare costs for both patients and healthcare systems, and improving outcomes, barriers have always existed that hinder the widespread adoption of telehealth. Yet recently, issues such as state requirement hurdles, reimbursement limitations, and a general resistance from physicians to learn and integrate new technologies into their care routines are quickly evaporating in the wake of the overwhelming proof of telemedicine's many benefits. Read the rest of this entry »
In this serious but somewhat satirical video Senator Claire McCaskill's questions Dr. Oz about medical sensationalism, reminding me of what's wrong with our health care system and prompting these thoughts… Read the rest of this entry »
Managing My Costs of Care is a well-written essay by Jay Warner.
I recommend it, because this one example shows just how easy it "should" be to cut healthcare costs in half to get down to what the rest of the world pays — for better care and outcomes — and save $1.5 trillion/year. It all comes down to getting the incentives right, because with employer-provided health insurance, Jay had no incentive (or ability) to comparison shop. Now he does.
The healthcare landscape is changing as payers pressure providers for more price transparency and seek other ways to contain costs and maintain profitability now that they can no longer cherry-pick the healthiest customers or cut them off when care gets too expensive.
Other disruptive changes include remote sensor monitoring (telemedicine) that can follow trends and identify problems earlier, remote consultations (telehealth) that can replace in-person office visits, medical tourism when it's less expensive and has better outcomes than local surgeries, and an overall shift away from the fee-for-service insurance model. That model once served as pre-paid medical care, but now payers are starting to view insurance as protection against catastrophic illness and injury with consumers paying for the small stuff out of pocket. With that trend comes two others: (1) increased competition and (2) an increased focus on overall health and wellness, including nutrition, exercise, and sleep as it's pillars.
A side benefit of wellness, beyond dramatic reductions in health care costs, is improved safety and performance. Restorative sleep, for example, is associated with improved alertness, attention, creativity, decision-making, focus, learning ability, mood, reaction & recovery times, and working memory, all of which contribute to better grades at school, better productivity at work and in sports, and fewer motor vehicle accidents and deaths.