Posts Tagged 'public policy'
By Wayne Caswell
The rapid and accelerating pace of tech innovation has profound implications for healthcare delivery & payment, aging, and disability employment, but regulations that support that are spotty or nonexistent.
The good news
"Durable medical equipment" is a class of assistive technology that can be paid for by Medicare, Medicaid and many private insurance plans. Motorized wheel chairs most often fall into this category. Read the rest of this entry »
The PCMH and Home Care Data: An Interview with Melissa McCormack is a byline article by Melody Wilding
The Patient-Centered Medical Home (PCMH) Model is a new approach which seeks to enhance care coordination and community-based care.
To learn more about how health care data fits into the PCMH model and how the new approach will helps seniors, we spoke with PCMH specialist Melissa McCormack of Software Advice, a source for medical systems reviews.
How does home care fit into the PCMH model? 
The PCMH model is all about putting the patient at the center of care. Under traditional fee-for-service models, doctors have no incentive to follow their patient's health outside of the office, because they receive no compensation for doing so. But the PCMH model rewards doctors for keeping their patients healthy, which incentivizes them to monitor their patients' health not just in the office, but at home, too.
FierceHealthPayer.com recently published an article that looked at successful strategies to improve health care and lower costs. It mentioned
bundled payments,
global payments, and
accountable care organizations.
But that's as far as it went, so I added the following response to show other ways that the ACA and changes to the healthcare Payment system can disrupt the Deliver system. Read the rest of this entry »
As a member of the American Telehealth Association (Austin chapter), I too support the Telehealth Enhancement Act, however I see it as just a baby step and think much more is needed. Still, it's a step in the right direction.
The proposed bill would modernize the Medicare program by allowing Medicare patients to be cared for remotely by a licensed healthcare provider from any state. That way, if you need medical help while on vacation, you could connect online or by phone with your own doctor back home without requiring that they be licensed in the state you traveled to. I urge Congress to adopt this bill and expand it beyond Medicare, to other federal agencies and health benefit programs.
What's the REAL reason people oppose universal healthcare? The fear of helping "LOSERS"
That was the title of an article by MedCity News, and I couldn't help but comment.
The article said FEAR was a dominant reason some Americans find it so hard to support universal healthcare. The dark side of this belief is that "Anyone who doesn't work hard enough, or doesn't have enough determination, is a Loser, and nobody wants to pay for free healthcare for those losers."
It doesn't seem to matter whether these 'losers' are old people or little kids or bankrupt people or people who've lost their job or people who have serious health problems through no fault of their own. People who are afraid of helping 'losers' talk about impeachment or defunding the government or killing Obamacare.  Read the rest of this entry »
Americans spend more on health care
but live sicker and die younger. Why?
We've published dozens of articles addressing that issue and have accumulated thousands of statistics in hundreds of Infographics. But today we include an important infographic that combines 12 charts created by Jan Diehm for The Huffington Post. Afterwards is a video description, a counter-point argument, and my own view of how Obamacare will address some of the issues.
Lowering Health Care Costs Is Hard Because Every Patient Is Unique — That's Bull $hit.
Below is my scathing response to this recent article in The Atlantic, by Dr. David A. Shaywitx, director of strategic and commercial planning at a San Francisco based biopharmaceutical company.
COMMENT:
I'm not surprised that this article was written by someone representing a biopharmaceutical company who sees every cure as a new drug and has a profit motive to find ways to justify high costs – in this case the "complexity of patients."
This is exactly what's wrong with our health care system – it's actually a sick care or disease management system that has nothing to do with keeping people well and healthy and that treats symptoms to keep patients alive but coming back as paying customers. Read the rest of this entry »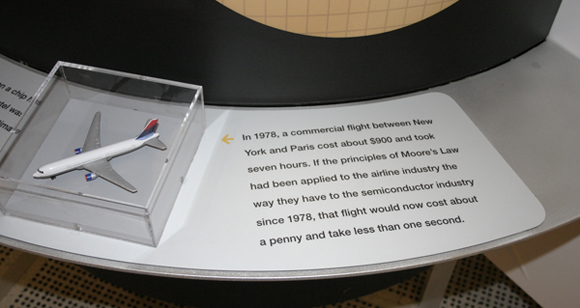 The video below makes fun of the health care industry with a satirical look at what the airline industry would be like if it worked the same way.
Neither industry, however, has shown the same innovation & improvement as the computer industry, which I come from as a retired IBM technologist. To put that statement into perspective, here are some observations.
Moore's Law and Air Travel
By Wendell Potter, Author, consultant, columnist at Center for Public Integrity and healthinsurance.org
Since 2010, the year President Obama signed the Affordable Care Act, more than $400 million has been spent by the law's opponents to turn Americans against it, according to an analysis earlier this summer by the Campaign Media Analysis Group at Kantar Media. That compares to just $75 million spent by supporters to defend and explain the legislation.
The vast majority of that anti-Obamacare advertising has been misleading and in many cases downright false, but, hey, this is a free country and truth-in-advertising rules don't apply. People who have an agenda, motivated by political or financial gain, just make stuff up. And then they use TV ads and the Internet to make sure the made-up stuff is repeated often enough so that gullible Americans eventually accept it as truth. Or at the very least grow confused and skeptical. Read the rest of this entry »
In honor of the 50th anniversary of the March on Washington and Dr. Martin Luther King Jr.'s "I Have a Dream" speech, Dan Munro wrote a wonderful column on Forbes reminding us that King saw healthcare as a civil right. Sadly, we have made little progress on healthcare inequality, with roughly 50 million Americans without health insurance and another 40 million under-insured.
The Affordable Care Act (Obamacare) is poised to relieve some of that, with the individual mandate to buy healthcare insurance and subsidies for low-income Americans. But individual states are still allowed to choose whether or not to support and fund a key component of the ACA – Medicaid expansion. Many will, but some won't.
Many doctors have walked away from taking Medicaid patients, and some have abandoned Medicare patients too. Read the rest of this entry »