The following article is adapted from some iPhone training material that Pat Pound created for special education teachers in June 2011. It describes over 70 accessible iPhone apps, and I thank her for permission to publish it here.

Vision: A Guide for iPhone Users who are Blind was one of the first articles on this blog. It's short but has several good links to more info, and this YouTube video demo shows how a blind person would use the VoiceOver feature.

And visit http://www.apple.com/accessibility to learn more about assistive features in iPod, iPhone, iPad and Apple TV and to discover other 3rd party add-on products and apps for all sorts of needs, including visual, hearing, dexterity, and learning.
By Pat Pound
Apple's iPhones (starting with the 3GS) are accessible to people who are blind as they come, complete with a screen reader, "VoiceOver", and print enlarger "zoom". As you know, the iPhone is famous for its touch screen so this is a very new experience for most blind users.  Apple reps are well prepared to sell these phones and to explain their accessibility features in their stores, although it's a noisy environment so it can be somewhat challenging. Similar accessibility is experienced on iPod Touch and iPad devices.
Hold the Phone for Vital Signs
WPI researchers turn a smart phone into a medical monitor.
October 6, 2011 — An iPhone app that measures the user's heart rate is not only a popular feature with consumers, but it sparked an idea for a Worcester Polytechnic Institute (WPI) researcher who is now turning smart phones, and eventually tablet devices, into sophisticated medical monitors able to capture and transmit vital physiological data.
A team led by Ki Chon, professor and head of biomedical engineering at WPI, has developed a smart phone application that can measure not only heart rate, but also heart rhythm, respiration rate and blood oxygen saturation using the phone's Read the rest of this entry »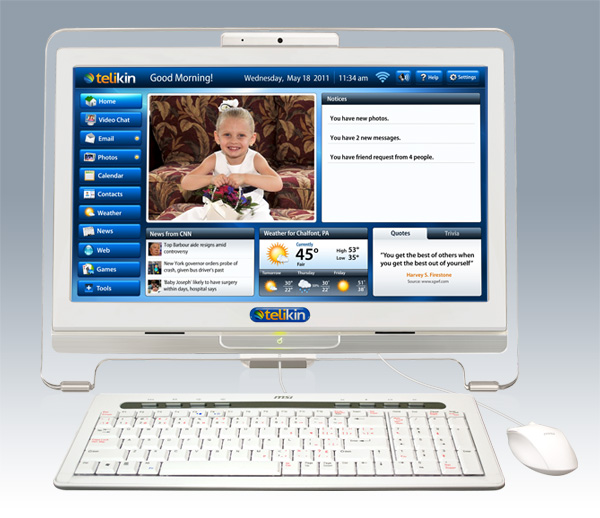 Telikin is a new all-in-one, touch-screen computer optimized for seniors. It forgoes the Microsoft Windows operating system for a custom version of Linux and is billed as "quite possibly the world's easiest computer." Telikin comes with several useful software applications pre-installed, so you can just plug it in, connect to the Internet, and you're ready to go, according to the website, but it still requires someone capable of doing that. It comes in two sizes with a 18.6-inch or 20-inch display and slightly .
After power-on, the system presents a home screen designed for accessibility. Use the mouse, or tap the always-visible sidebar menu with your finger, to access the applications, which include video chat, email, photos, calendar, address book, weather, news, web browsing, games, calculator, CD & DVD player,  file browser, word processor, and common utilities.