On the first day of CES I attended a Digital Health Summit panel discussion hosted by Arianna Huffington of The Huffington Post. To introduce the discussion, she described Americans' increase in antidepressants, sleep medications, and stress, and how 75% of healthcare spending is spent on preventable diseases, and 80% of medications are for pain. All of these conditions are preventable through other means, she said.
The panel discussed a perfect storm of multiple trends: (1) stress (and I'd add sleep deprivation) is a killer, (2) our broken & expensive sick care system, and (3) technology & wearable devices that can help us focus on health & wellness. Market researchers note that 30 million wearable devices shipped in 2012, going to 60 million in the next year. In addition, 44 million health apps will be downloaded to smartphones and tablets this year.
Living with Diabetes requires frequent monitoring of blood glucose (blood sugar), an essential measure of your health. The American Diabetes Association can help you better understand Diabetes, select from the latest tools, learn how to manage your blood glucose levels, and prevent serious complications. They provide guidance for selecting a blood glucose meter and list currently available models, many of which are available at local drug stores, but today's article is inspired by one that's not listed and you may not have seen yet.
iBGStar blood glucose monitor
"Human actions could become more accurately predictable, thanks to neuroscience. Nano-sized robots will deliver cancer-fighting drugs directly to their targets. And though many recently lost jobs may never come back, people will find plenty to do (and get paid for) in the future," according to forecasts you'll find in this roundup of the most thought-provoking possibilities and ideas published in The Futurist magazine over the past year.
I've extracted the following Health & Medicine forecasts from the World Future Society's special report, Outlook 2013. It's a promotional piece to attract new members who then get a subscription to The Futurist.
Better health, but fewer doctors.
A projected shortage of more than 90,000 doctors by 2020 will drive technological innovations such as low-cost, point-of-care diagnostics—i.e., Lab-on-a-Chip technologies. A cell-phone-sized device could analyze your blood or sputum while you talk to a health provider from the comfort of your home. —Peter H. Diamandis and Steven Kotler, "The Abundance Builders," July-Aug 2012,p. 17
Read the rest of this entry »
System monitors seniors' health in the comfort of their own homes
By Marlene Cimons, National Science Foundation, December 6, 2012
Many elderly dread the prospect that chronic medical issues will force them to leave their homes for an assisted living facility or nursing home, making them dependent upon others for their care and personal needs. Sometime in the near future, however, new technology could help them remain in their homes longer, perhaps indefinitely, without having to give up their independence.
"Our goal is to keep people in their private homes for as long as possible," says Marjorie Skubic, professor of electrical and computer engineering at the University of Missouri. "The idea is to detect functional decline or early signs of illness, so we can identify problems when they are very small and proactively address them before they become catastrophic. That way, mom won't have to leave her home." Read the rest of this entry »
By Mark Wilson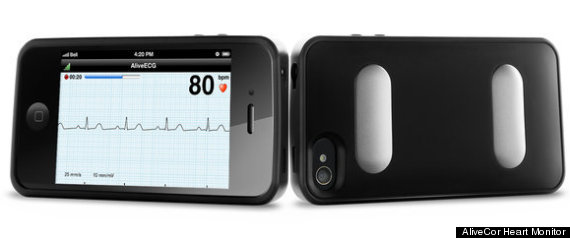 Health Care is hurting, and the world is changing.
More and more, Hospitals will fit in our Pockets. 
Most iPhone cases just protect your phone from drops. If you're getting fancy, it may have a fisheye camera lens or a screen-printed back. But what about diagnosing coronary heart disease, arrhythmia, or congenital heart defects? The AliveCor Heart Monitor is an FDA-approved iPhone case that can be held in your hands (or dramatically pressed against your chest) to produce an EKG/ECG–the infamous green blips pulsing patient-side in hospitals everywhere.
"We think that EKG screening can be as approachable as taking blood pressure," AliveCor President and CEO Judy Wade tells Co.Design. Read the rest of this entry »
Scanadu Unveils Family of New Tools to Revolutionize Consumer Healthcare
NASA-Based Company Puts a Doctor in Your Pocket
NASA Ames Research Center, Moffett Field, CA – November 29, 2012
Scanadu, a new personalized health electronics company, today unveiled the first three products in its family of consumer health tools: Scanadu SCOUT, Project ScanaFlu and Project ScanaFlo. Based at NASA-Ames Research Center, Scanadu is using mobile, sensor and social technology to ensure this is the last generation to know so little about our health. The newly introduced home diagnostic tools are set to be the biggest innovation in home medicine since the invention of the thermometer.
Founded in 2010 by Walter de Brouwer after a family medical emergency, Scanadu is using imaging and sound analysis, molecular diagnostics, data analytics and a suite of algorithms to create devices that offer a comprehensive, real-time picture of your health data. The company is also participating in the Qualcomm Tricorder X Prize, which looks to bring healthcare to the palm of your hand, as well as the Nokia Sensing X Challenge, which seeks to revolutionize digital healthcare. Read the rest of this entry »
As computing devices shrink in size, price and power consumption, they are being embedded in all sorts of everyday objects, including light bulbs, hearing aids, and even the human body. But what happens in 8-10 years when the pacemaker battery wears out? Today that requires another operation to replace it, but in the foreseeable future medical devices might be powered by the body itself, from heart beats, blood flow, lung contractions and arm and leg movements, as well as by electrical energy already produced by the inner ear.
That's the message of the Wall Street Journal video below, which shows researchers investigating ways to harness the body's energy – such as heat, sound and movement – to power medical devices.
By Alex Lane (original article: What is a Smart Home? Samsung's NaviBot S can clean the low places)
The original Smart Home device has to be the Teasmade, and the textbooks say that a smart home is one that uses home networking technology and your internet connection to automate and simplify everyday living.
It's the use of networking and broadband connections that takes smart home technology beyond simple home automation, where each device usually stands alone, with its own control system.
Smart home tech is a fast-growing field, from cleaning your house to opening the curtains and switching on the lights. There's also a growing field of utility and power management, for your gas, water and electricity [and for home health care]. Surrounding them all are unified networking and control systems that can control and monitor all of your devices, not just one for each.
Bluetooth is a global wireless standard that enables simple connectivity among mobile and medical devices. Version 4.0, with its low energy features for long battery life, is already transforming the healthcare industry, creating efficiencies, and promoting responsible personal health monitoring, as noted in my earlier article, Healthcare meets Bluetooth Low Energy. But the following press release highlights new market research that predicts a … Read the rest of this entry »