Everyone occasionally has to deal with stress, especially when starting up a business like Dr. Bruce Meleski and I are doing with Intelligent Sleep. So this week, with his permission, I'm sharing this great story from Jeffrey Fry and his 15 Stress Management Tips.
When explaining stress management to an audience, a lecturer raised a glass of water and asked, "How heavy is this glass of water?"
Answers called out ranged from 6 ounces to 24 ounces, but the lecturer replied that, "The absolute weight doesn't matter. It depends on how long you try to hold it…
If I hold it for a minute, it's not a problem.
If I hold it for an hour, I'll have an ache in my right arm.
If I hold it for a day, you'll have to call an ambulance.
In each case, it's the same weight, but the longer I hold it, the heavier it becomes."
She continued, "And that's the way it is with stress management. If we carry our burdens all the time, sooner or later, the burden will become increasingly heavy … and we won't be able to carry on.
Byline article by Michael Lamb (original at SweatShorts.co)
We all sleep and we all dream. Some nights it is easier to fall asleep. Other nights it's a battle.
After having some trouble with sleeping these past couple of weeks. I decided to do some research. Since a lot of people wear sweat shorts to bed I thought, why not share this information with you? Hoping that you will find it as useful as I have. After doing all of my research I came up with 70 tips to improve sleep, help you fall asleep quicker, and stay asleep longer. Hopefully this info will have you sleeping like a champ.
If you don't have any trouble sleeping, then by all means don't change a thing. Just share these sleep improvement tips with others. Read the rest of this entry »
Tossing and Turning: Sleeplessness in America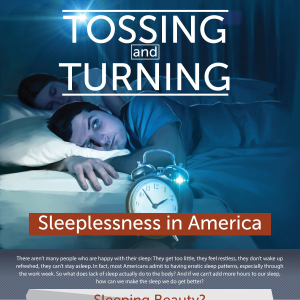 This text, courtesy of Top Nursing Programs, is provided as a convenience for automated screen readers. Sighted readers will prefer the Infographic below.
There aren't many people who are happy with their sleep: They get too little, they feel restless, they don't wake up refreshed, they can't stay asleep. In fact, most Americans admit to having erratic sleep patterns, especially through the work week. So what does lack of sleep actually do to the body? And if we can't add more hours to our sleep, how can we make the sleep we do get better?
Sleeping Beauty?
8 to 8.5 — Hours of sleep per night adults generally require (1)
1 in 3 — Adults who have insomnia at some point in their lives (1)
43% of Americans 13-64 say they rarely or never get good sleep on weeknights.
60% admit to suffering some sleep problem every night (snoring, waking constantly, feeling groggy in the morning). (2)
15% of adults 19-64 say they sleep less than six hours on weeknights. (2)
I first encountered the term Functional Medicine a few years ago during a lecture by Dr. Lane Sebring at a World Future Society dinner. In keeping with the focus of this organization, he titled his talk The Future of Medicine is … Not Medicine, which links to my notes and a video of the 71-min lecture. Dr. Sebring looked to anthropology to understand why, even with modern medicine, many of our diseases today didn't even exist about a century ago when Heart Disease was almost unknown and Cancer was rare, not even making the top 10 as a cause of death.
The more he looked into the cause of illness, the more he became disillusioned and frustrated with modern healthcare and the traditional practice of providing "sick care" and just another pill in a "disease management" system that profits from illness. To focus his practice on health & wellness, he became an expert in Functional Medicine, which he describes as a form of evolutionary, integrative, holistic, or alternative medicine. Read the rest of this entry »
"What the Hell is happening to health care?"
"And is it an Opportunity or a Threat?"
Insights by Wayne Caswell, Founder of Modern Health Talk.
An awful lot has changed in just the last few years and even more will change in the near future, with the aim of reducing (or at least containing) our health care costs. What's behind these MiniTrends, and what is their implication for providers, payers and consumers? That's the $1.5 trillion question. Here I talk about many, many MiniTrends–surely you can find 101 of them if you look! 
"It is not the strongest or the most intelligent who will survive but those who can best manage change." – Charles Darwin
That quote is important, because 429 of the original Fortune 500 companies [1955] are no longer in business today. That's a scary thought for those sitting at the top of the healthcare mountain, because they know they must adapt to the megatrend of health reform and Obamacare (the Patient Protection and Affordable Care Act) or die. And they are looking down with fear at the hungry competitors who are already exploiting the many related minitrends, because for them these are times of great opportunity.
Here's a story from AARP about TV personality Mark McEwen's experience suffering from a Stroke. It prompted me to share some advice on how to avoid a stroke or reduce its effects.
For over 15 years, Mark McEwen was the face and voice of CBS' morning show, until a misdiagnosed stroke almost killed him. Watch the inspiring story of how stroke changed Mark's life forever, and how he fought to take back his life again. For more information on how to prevent stroke and know the symptoms visit stroke.org.
More than half of Americans are losing sleep due to stress, according to Better-Sleep-Better-Life. Not getting enough sleep comes with a number of unwanted side effects, including some that are rather serious. A lack of sleep can cause motor vehicle accidents, injuries on the job, weight gain, and numerous health problems like heart disease, stroke, and diabetes, just to name a few. It can even contribute to greater stress, creating a vicious cycle. Fortunately there are a number of simple ways to help relieve stress so that you can sleep better at night.
Regular Exercise
Taking part in physical activity on a regular basis is one of the most important things you can do to relieve stress and get better sleep. Optimally, you should aim for at least 150 minutes of moderate-intensity exercises like brisk walking, or 75 minutes of vigorous activities such as jogging or swimming laps each week. Take part in these activities at least two hours before going to bed, or it could have the opposite effect—keeping you awake. Read the rest of this entry »
By Sandy Getzky
Eating unhealthy foods occasionally or forgetting a workout one day won't do much harm, but turning these into regular habits can affect your health. Although it's tough to follow healthy habits when you're not used to them, learning how is crucial for your well-being. Unhealthy habits increase your risk of developing heart disease, type 2 diabetes and other health problems. Here are some tips to help you form healthier lifestyle habits, which can reduce the risk of these dangers. Read the rest of this entry »
By Stephen C Schimpff, MD
Beginning with a deep understanding of medical science and years of training and experience, the primary care physician (PCP) needs to delve deeply into the patient's personal, family and social setting in order to fully understand the context and causes of the patient's illness. The PCP also needs to know when it is important or even critical to call upon others with specific knowledge, techniques or approaches that might be best suited for a particular patient. Sometimes this means calling in the cardiologist, the surgeon, the gastroenterologist or the psychiatrist. But it may also mean making good use of other modalities and practitioners such as chiropractic, social work, acupuncture, psychology, massage, nutritional therapy, exercise physiology [and sleep medicine]. Read the rest of this entry »
Managing My Costs of Care is a well-written essay by Jay Warner.
I recommend it, because this one example shows just how easy it "should" be to cut healthcare costs in half to get down to what the rest of the world pays — for better care and outcomes — and save $1.5 trillion/year. It all comes down to getting the incentives right, because with employer-provided health insurance, Jay had no incentive (or ability) to comparison shop. Now he does.
The healthcare landscape is changing as payers pressure providers for more price transparency and seek other ways to contain costs and maintain profitability now that they can no longer cherry-pick the healthiest customers or cut them off when care gets too expensive.
Other disruptive changes include remote sensor monitoring (telemedicine) that can follow trends and identify problems earlier, remote consultations (telehealth) that can replace in-person office visits, medical tourism when it's less expensive and has better outcomes than local surgeries, and an overall shift away from the fee-for-service insurance model. That model once served as pre-paid medical care, but now payers are starting to view insurance as protection against catastrophic illness and injury with consumers paying for the small stuff out of pocket. With that trend comes two others: (1) increased competition and (2) an increased focus on overall health and wellness, including nutrition, exercise, and sleep as it's pillars.
A side benefit of wellness, beyond dramatic reductions in health care costs, is improved safety and performance. Restorative sleep, for example, is associated with improved alertness, attention, creativity, decision-making, focus, learning ability, mood, reaction & recovery times, and working memory, all of which contribute to better grades at school, better productivity at work and in sports, and fewer motor vehicle accidents and deaths.