As shown in the infographic below, digital devices with access to the Internet are redefining healthcare and driving a revolution in its delivery systems.
FIRST is the wealth of medical information available online and the tools to find and make sense of it. This helps medical professionals and patients alike, and consumers can now take more responsibility for their own wellness. Realizing they have a greater stake in the game than their physician, they're regularly engaging in online conversations using social media or searching online websites like WebMD, PatientsLikeMe and mHealthTalk for healthcare information.
NEXT is mobility, with smartphones, tablet computers, and Read the rest of this entry »
Type on your touchscreen with braille. Hear what your camera sees. Learn to sign.
Apple products are already simple, intuitive, and easy to use. They also have accessibility features built in – for people with special needs. And with third party assistive technologies, Apple helps even more people do more in more ways. Learn about the company's accessibility features in OS X (for Mac) and iOS (for iPhone, iPad & iPod touch).
This article highlights some of the third party apps that Apple is promoting and concludes with a short list of related articles on mHealthTalk.
Vision
BrailleTouch lets you type using braille right on your iPhone or iPod touch screen. Use a unique split keyboard based on the traditional six-key braille keyboard, and type text messages and email more quickly and accurately. Read the rest of this entry »
Le Web Paris (see video) explores a future of technology that connects everyday devices all the time, often described as The Internet of Things.
This story and video from Reuters and the Huffington Post form the basis of my own observations and developer recommendations as a 30-year IBM technologist, futurist and Digital Home consultant. Included at the end are four interesting infographics from Cisco, Intel, Casaleggio Associati, and Beecham Research. Read the rest of this entry »
Swiss researchers have unveiled a prototype "lab on a chip" that is surgically implanted in the interstitial tissue just beneath the skin, where it analyzes compounds in the blood, and sends results to a phone or tablet through wireless radio connections.
How does it work? The microchip has seven chemical & molecular sensors and gets inductive power from a patch worn on top of the skin. Every 10 minutes the collected data is sent through the patch and a Bluetooth connection to a patient or doctor via smartphone or tablet.
Although the device will not be widely available for at least a few years, its potential practical applications are widespread and include:
Glucose monitoring in diabetics, more frequently and without a finger prick.
Post surgery patient monitoring
Facilitate predictive medicine, including a pending heart attack
Measure metabolism and drug absorption
Athletes monitoring fluids & nutrition
I do love smartphones and tablets (especially the Apple iPhone & iPad). They're like having a powerful computer in your pocket and support all sorts of mHealth (mobile health) apps, but I have to admit they aren't for everyone.
As I read through the 13 articles about "Advancing the mHealth Ecosystem," I remembered today's conversation with a dear friend that expanded my perspective. She's about to give up her iPhone 4 and go back to using a flip-phone. Since I often promote Apple smartphones and tablets for seniors (she's not yet 60), and my wife talked her into the iPhone a year ago, this was a bit of a shock, so I had her explain.  Read the rest of this entry »
What is mHealth, and does the term stand for Mobile Health or Modern Health?
That's the subject of a an online discussion started by David Doherty, moderator of a LinkedIn group interested in using mobile technologies to improve health. He started the discussion to support my view that any definition of mHealth that only includes smartphones is both limiting and arrogant. This article supports that discussion by expanding the definition of mHealth and what's included.
Much of this article builds on an earlier article that I wrote in May 2012, where I addressed confusion among syllogisms, using the analogy that Lions & Tigers are both Animals, but not all Animals are Lions or Tigers. Likewise, there are some confusing overlaps among the terms mHealth, eHealth, Wireless Health, Telehealth, and  Modern Health. And the devices that serve these market segments overlap too, so I must discuss them collectively.
Living with Diabetes requires frequent monitoring of blood glucose (blood sugar), an essential measure of your health. The American Diabetes Association can help you better understand Diabetes, select from the latest tools, learn how to manage your blood glucose levels, and prevent serious complications. We provide a guide to help you select a blood glucose meter, many of which are available at local drug stores, but today's article is inspired by one that's not listed and you may not have seen yet.
iBGStar blood glucose monitor
System monitors seniors' health in the comfort of their own homes
By Marlene Cimons, National Science Foundation, December 6, 2012
Many elderly dread the prospect that chronic medical issues will force them to leave their homes for an assisted living facility or nursing home, making them dependent upon others for their care and personal needs. Sometime in the near future, however, new technology could help them remain in their homes longer, perhaps indefinitely, without having to give up their independence.
"Our goal is to keep people in their private homes for as long as possible," says Marjorie Skubic, professor of electrical and computer engineering at the University of Missouri. "The idea is to detect functional decline or early signs of illness, so we can identify problems when they are very small and proactively address them before they become catastrophic. That way, mom won't have to leave her home." Read the rest of this entry »
By Mark Wilson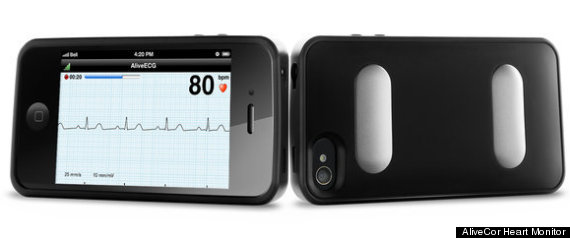 Health Care is hurting, and the world is changing.
More and more, Hospitals will fit in our Pockets. 
Most iPhone cases just protect your phone from drops. If you're getting fancy, it may have a fisheye camera lens or a screen-printed back. But what about diagnosing coronary heart disease, arrhythmia, or congenital heart defects? The AliveCor Heart Monitor is an FDA-approved iPhone case that can be held in your hands (or dramatically pressed against your chest) to produce an EKG/ECG–the infamous green blips pulsing patient-side in hospitals everywhere.
"We think that EKG screening can be as approachable as taking blood pressure," AliveCor President and CEO Judy Wade tells Co.Design. Read the rest of this entry »
Scanadu Unveils Family of New Tools to Revolutionize Consumer Healthcare
NASA-Based Company Puts a Doctor in Your Pocket
NASA Ames Research Center, Moffett Field, CA – November 29, 2012
Scanadu, a new personalized health electronics company, today unveiled the first three products in its family of consumer health tools: Scanadu SCOUT, Project ScanaFlu and Project ScanaFlo. Based at NASA-Ames Research Center, Scanadu is using mobile, sensor and social technology to ensure this is the last generation to know so little about our health. The newly introduced home diagnostic tools are set to be the biggest innovation in home medicine since the invention of the thermometer.
Founded in 2010 by Walter de Brouwer after a family medical emergency, Scanadu is using imaging and sound analysis, molecular diagnostics, data analytics and a suite of algorithms to create devices that offer a comprehensive, real-time picture of your health data. The company is also participating in the Qualcomm Tricorder X Prize, which looks to bring healthcare to the palm of your hand, as well as the Nokia Sensing X Challenge, which seeks to revolutionize digital healthcare. Read the rest of this entry »